March 19, 2017
DJIA Near Highs and Gold Springs Back to Life
Good Sunday Afternoon,
This week the DJIA closed at 20914 near the highs giving support to U.S. stocks and the warrants trading thereon.
Gold as well sprang back to life after the Fed announcements and closed the week at $1229.
Silver            $17.41
Crude Oil      $49.31
Copper           $2.69
USD              100.37
In our opinion the US Dollar has put in place a major top on the weekly chart we show below. The negative divergence is easy to see with the USD heading up but the indicators diverting to the downside. Of course, all of this with the Trump administration basically talking down the dollar.
Over time this will no doubt impact the U.S. markets and should be a positive indicator for the future price of gold and commodities, we shall see.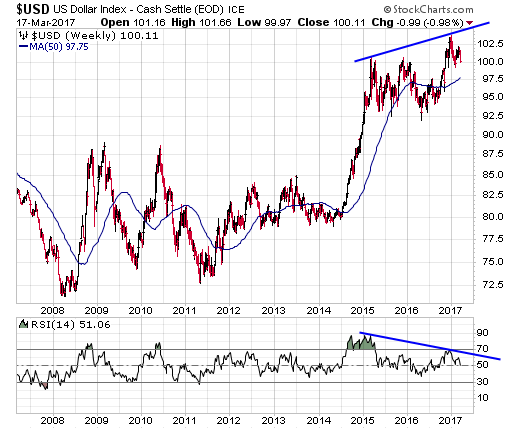 My preference is to 'play this game' with the junior mining shares and/or stock warrants.
However, many investors are finding great opportunities with warrants on the U.S. stocks in other sectors, bio-techs, pharmaceuticals, banking, etc.
Let me assist you with finding these opportunities and increasing your gains as I am on a roll with some monster gains over the last few months, yes 1,000%, and 2,000% PLUS gains.
Remember that only 25% or so of my personal portfolio is in stock warrants, the balance are common shares in the junior mining companies and I am on the hunt for new additions to my portfolio.
There are many interesting opportunities in stocks as well as the stock warrants available today, so if you not a current subscriber, LET'S GET YOU STARTED NOW.
The next several years, 2017 – 2020 will see some exciting times in the PM sector and I am looking to make a fortune.
Do you want to follow me?
Let's have some fun and make money together.

Recent Articles On Our Websites:
From the shores of Lake Chapala, Jalisco, Mexico
Dudley Pierce Baker
Founder-Editor
http://CommonStockWarrants.com
http://JuniorMiningNews.com