---
The next several years, 2016 – 2020 will see some exciting times in the Precious Metals (PM) sector and I am looking to make a fortune. Do you want to follow me?
Let's have some fun and make money together.
Subscribe on a monthly basis, annually (for more savings) or a LIFETIME.
By definition, Stock Warrants give the holder the right, but not the obligation, to purchase the underlying common shares at a specific price and expiring on a specific date in the future. Folks this is simple as this is the same definition as options, except the stock warrants trade on an exchange, TSX, TSXV, NYSE, OTC or NADSAQ and have much longer terms, some for 5 years or more.
Since the 1920s, some of the biggest companies in the world have previously had stock warrants trading, such as AT&T, Ford Motor Company and Goldcorp. A few of the hundreds of current companies with stock warrants trading include, Alamos Gold, Renaissance Oil, Blackbird Energy, Golden Queen, Osisko Gold Royalty, Sandstorm Gold, Bank of America, AIG, and General Motors.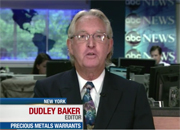 Do your favorite companies have stock warrants trading?

Wouldn't you like to know?

Do your other newsletters or analysts tell you about stock warrants?

Wouldn't you like to know?

Get the message –

you need to know

!
This is Dudley Pierce Baker and I welcome you to the exciting world of investment opportunities with warrants. Stock warrants have been an overlooked investment vehicle for decades perhaps for a lack of knowledge by both individual investors as well as professionals. Since 2005 we have been "the authority on warrants" and until May 2013 focused solely on warrants which were trading on the natural resource shares through our popular service, PreciousMetalsWarrants.com. Our expanded services now include warrants on all industries and sectors trading in the United States and Canada. Banking, Financial Services, Automotive, Gaming, Pipelines, Mining, etc.
For the first time ever, all listed warrants are now in one place, in one service, CommonStockWarrants.com.
Congratulations!, you have found us, you are here, and we trust you will join us as a subscriber. Warrants are simple and very similar in many ways to stock options. Don't be intimidated. Our warrant learning center will assist you with your questions and will explain why warrants should be considered as an integral aspect of your portfolio to increase your leverage as well as for great hedging opportunities.
We now offer two levels of subscriptions:
Silver Subscription

(Warrant Database Only)  — 
Our warrant database contains all the information you will need to make a decision on which warrants, if any, which you would like to consider for purchase. You can sort our database by company name, symbol, industry, % gainers, volume, and market capitalization. You also get

our current rating

 on each warrant:
Under Valued — Fair Value – Over Valued
Gold Subscription

includes everything

 

— 
Our warrant database plus the following:
Dudley has basically focused on the resource sector for his personal investments but has recently been diversifying into other sectors, i.e., blank check companies, marijuana companies and more. If this is of interest to you, then by all means sign up for this subscription to learn what he is doing and see his personal portfolio.

Dudley's Portfolio – "A Look Over My Shoulder"
You will see all of Dudley's positions; all warrant and common share positions.
Dudley has 15% of his portfolio in long-term warrants. The balance of 85% is in common share positions basically in

junior mining companies

which he believes will be the next big winners.
Dudley's goal is to make 1,000's of % and more in the next two to three years,

let's do it together

.
Email notification of changes in portfolio
Dudley's audio every Thursday after market close with his latest market comments, review of special situations, selected charts, etc. An open and frank discussion giving subscribers a good "feel" of Dudley's expertise and integrity. This has become a Favorite Feature of our service and eagerly awaited by subscribers.
Dudley intensely follows the insider trading activity on hundreds of companies. "Everything we do, especially in the resource sector, takes into consideration the insiders' holdings and recent activity on all of our positions."
EDUCATION – INVESTMENT IDEAS – PERFORMANCE
Thank you for visiting our website.
We look forward to having you on board as a subscriber soon.
Ready Now?