March 29, 2017
Dudley Pierce Baker
http://CommonStockWarrants.com
I want to share with you a great book,
Intrepid Explorer           
(The Autobiography of the World's Best Mine Finder)
J. David Lowell
David Lowell has had an amazing career and is now the center piece of a new company now being formed which maybe one of his greatest successes.
JDL Gold (J. David Lowell) (JDL) as of March 24 has merged with Luna Gold.
On March 31st, there will be a name and symbol change to Trek Mining, TSXV:TREK
This new company will have approximately C$110 Million cash and no debt and a management team comprised of some of the biggest names in the business.
In full disclosure, I have a nice position in the common shares of JDL Gold as well as the stock warrants which are trading with a remaining life of around 4.5 years. Time, lots of time for the new Trek Mining to execute on their investment plans and bring great gains to shareholders.
Back to the book, and to quote from the Introduction:
"I hope you will perceive from his writing the enormous respect that his longtime friends have for him and the fact that his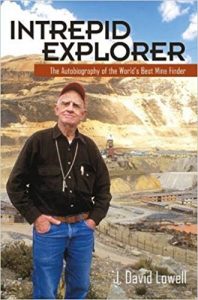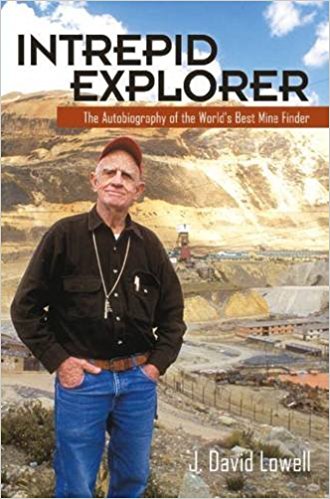 worldly success has affected his personal friendships not at all. His friendliness and generosity of spirit are widely recognized. His eye still twinkles merrily, and he seldom fails to stay in touch with old exploration, ranching and business chums. He is in strong demand as a speaker, writer, and short-course instructor. And through all his success, he has remained his own man…."
"His devotion to exploring and advancing are attested to by his recent perception, discovery, and development of world-class deposits of titanium in Paraguay and his continuing hunt for porphyry coppers in Chile and elsewhere….For most men having discovered Kalamazoo, Casa Grande West, La Escondida and Pierina (among others) would be enough…But Dave's head is slightly turned, his eyes on the horizon…his energies and enthusiasms will not subside…and he still travels to Mexico, Peru and Chile…still plotting, still contemplating, still eager, still reaching out to find the next orebody."
The Intrepid Explorer is available on Amazon and anyone interested in the resource sector should find this to be an incredibly entertaining and educational piece.
I highly recommend it.